+421-2-5465-0242
Online support - chat (bottom right)
Diagnosis of defective HW
Diagnosis of defective HW is realized by using exact methods on selected HW errors and many other HW errors can be determined based on evaluating information recorded and saved in CM.
Exact methods for determining HW errors by CM
1. Disk errors.
Diagnosis of disks is either performed by tests by an external program, or monitoring of S.M.A.R.T. parameters. Read more about monitoring of disks' health in the section S.M.A.R.T. Health of disks.
2. Monitoring of HW status of servers.
Thanks to Watches, we can monitor several server parameters, whose faulty values indicate HW errors. More about monitoring of servers' HW can be found in the section Monitoring of HW status of servers.
3. Monitoring of the insides of PC a NB
Through Watches, several computer parameters can be monitored. Find out more about monitoring of PC and NB in the section Monitoring of the insides of PC, NB
Analytical methods 
1. Online information
One way how to determine a defective HW by using analytical methods is to watch the section Online information on CM portal. More about evaluation of data and graphs can be found in the section View of load (overload) of a computer through Online information - state for the past 48 hrs
Example of use: When a PC is frozen or in an error state, save the status from online information, where you can see the processes, which currently load the processor and the memory. If these information differ at the next PC failure, you might assume that it's a case of defective HW.
Data in online information are evaluated in 3 minutes intervals and only display two processes, which load the PC the most.
2. System information from C-Monitor Console
The difference between Online information and system info is, that in system info, the data are updated every 30 seconds and it shows all processes of the selected PC.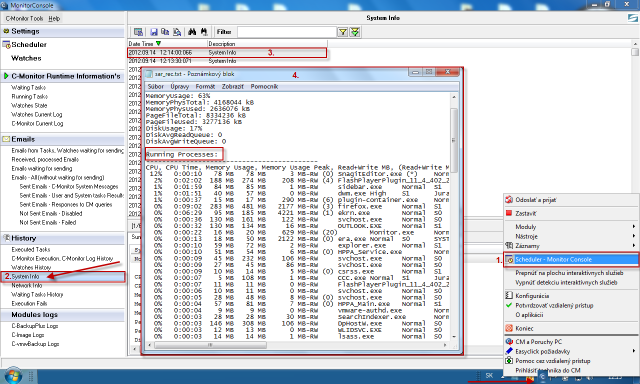 3. Confirmation of complete PC shutdown due to HW error or power outage (c-monitor log) 
When the shutdown was caused by SW, it usually ends up in the blue screen. When it's a spontaneous shutdown, the last archived C-Monitor Log won't contain App Exit Request at the end. In other cases of HW and SW errors you may see the blue screen, and in other cases of the shutdown you should notice a correct request for computer shutdown in the C-Monitor Log. Confirmation of power outage can be solved by a better UPS and its enhanced monitoring.