+421-2-5465-0242
Online support - chat (bottom right)
Periodic tasks to remind of regular service
Objective of periodic tasks
The objective of periodic tasks is for activities associated with managing IT to be performed in regular intervals, and for important things that need to be checked to not be overlooked. A periodic task is a record in the customer's settings, it's notified in the form of a request in C-Desk or an error in CM. An example of a periodic task can be cleaning of computers, physical check of randomly selected data from backups, check of state of accumulators in backup power sources.
Vstup do pravidelných úloh
Od verzie Customer Monitora 2.6 boli pravidelné úlohy presunuté do časti CDESK a oproti pôvodnej verzii dostali nový plánovací kalendár s možnosťou voliť si ľubovoľnú periódu opakovania pravidelnej úlohy, napr. každú druhú stredu a pod.
Pravidelné úlohy sa nachádzajú v časti Customer Desk -> Administratíva -> Pravidelné úlohy, ako je znázornené na nasledujúcom obrázku, rovnako sa tu nachádza aj zoznam všetkých vytvorených úloh, ktoré môžete podľa potreby upravovať kliknutím na tlačidlo Editovať.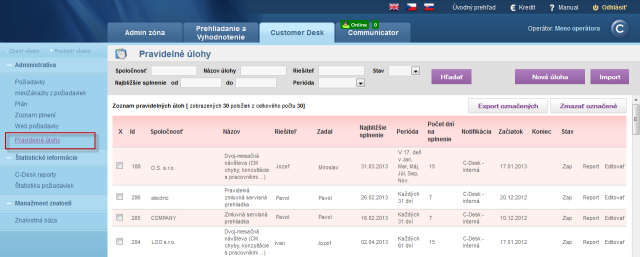 Vytvorenie pravidelnej úlohy
Novú úlohu vytvoríte kliknutím na tlačidlo "Nová úloha".
V novom otvorenom okne vyplníte potrebné informácie ako Názov, Popis, zvolíme Riešiteľa, Stav požiadavky (zapnutá, vypnutá), začiatočný a koncový dátum, Periódu opakovania pravidelnej úlohy, Počet dní na splnenie úlohy. Pri zadaní periódy opakovania sa pravidelná úloha bude automaticky vytvárať vo vami zvolenej perióde a forme.
Ďalšia veľmi dôležitá vec je voľba, akým spôsobom sa má pravidelná úloha vyhodnocovať. Musí byť zvolená aspoň jedna možnosť, na výber je požiadavka cez CDESK alebo vyhodnocovanie stavu úlohy v poruchách. Môžu sa použiť obidve možnosti naraz. CDESK požiadavku si zvoľte na notifikáciu v prípade, že ide o pravidelnú úlohu so sledovaním vykonanej práce, ktorá musí byť zapísaná v CDESKu. Notifikáciu poruchou použite v prípade, že ide o skontrolovanie danej skutočnosti bez potreby sledovania odvedenej práce. Ďalší rozdiel je, že požiadavka sa po každej perióde generuje vždy nová, pokiaľ porucha z minulého obdobia nie je uzavretá, nová porucha sa negeneruje.
Pri požiadavke cez CDESK je možné vytvoriť internú požiadavku alebo obyčajnú požiadavku. Interná požiadavka sa nedáva na vedomie kontaktnej osobe spoločnosti, upozorňujeme, že pod zákazníckym kontom v CM je požiadavka viditeľná (viditeľnosť interných požiadaviek pod zákazníckym kontom bude v budúcnosti voliteľne obmedzená).
Taktiež je na výber možnosť zvoliť Automaticky uzatvoriť požiadavku na konci dňa s dátumom splnenia. Toto odporúčame použiť len vo výnimočných prípadoch.
Ak  vytvárate úlohu so začiatkom dnes, notifikácia sa vykoná o 15 minút od prvého uloženia. Počas tejto doby je možné pravidelnú úlohu editovať, aby ste notifikačnú správu mali v želanom stave.
Týmto nastavením ovplyvníte čas vytvárania požiadavky z pravidelnej úlohy v rámci dňa. Východiskové nastavenie vytvorí požiadavku krátko po polnoci, čo môže mať malé negatívum. V prípade, že požiadavka má vysokú prioritu odosiela sa SMS správa pridelenému operátorovi, prípadne kópia SMS aj zákazníkovi. Aby nechodila v nočnom čase, odporúčame využiť toto nastavenie a posunúť čas na ráno alebo skoré dopoludnie.
Nastavenie času vytvorenia požiadavky z pravidelnej úlohy je zobrazené na nasledujúcom obrázku.